If you're planning on updating your fencing, we have a wide range of products and useful tips to help you, as well as high-quality products to ensure that your fencing installation is hassle-free.
Use post mix or postcrete for a quick and easy installation
Post mix, sometimes known as postcrete, is one of the best ways to ensure a quick and secure installation. It is a rapid-setting dry-mix and is suitable for securing wood, metal and concrete posts.
Preparing it is simple. Dig a hole where you want your post to be positioned, position your post in the hole, add the dry mix and pour in water. The mix should start to set within ten minutes. It really is as uncomplicated as that!
Our postcrete will leave your posts standing strong and sturdy, ensuring that your fence is protected against high winds and harsh weather. It is easy to determine how many bags you'll need for the job, as each of our bags holds enough concrete for one average depth post.
Post caps are a simple way to protect your posts

Adding post caps is an excellent and uncostly way to further protect your posts against water damage. Not only do they add a finishing touch to your fencing, but they also help shed water off the top of posts. They will also protect the tops of your posts against sun damage.
If after some time you believe your post caps need replacing, they are easy to remove and refresh with new caps.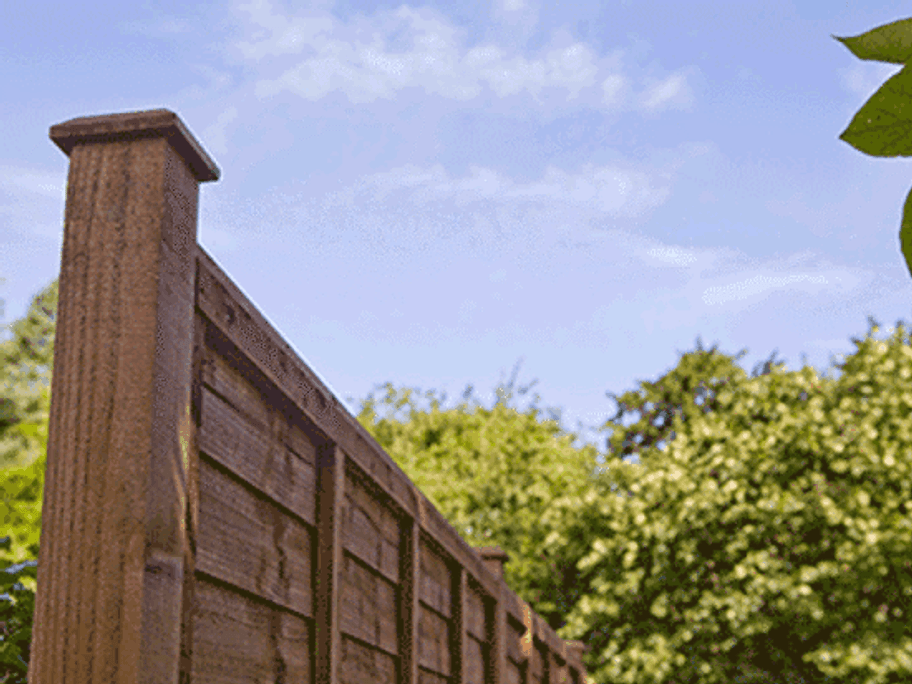 Post brackets can be used for rapid fencing installation
Fixing your fence posts in place with brackets makes inserting or removing your fence panels much easier. Brackets are attached to the side of fence posts and allow fence panels to easily be secured to your posts.
Perma timber posts are manufactured to last
Having the peace of mind that your fencing will last is important. Our PermaTimber® posts are an excellent choice for longevity. The ground contact area of our posts are specially incised prior to the posts being treated in our own Wye Valley based treatment plant. Our entire process has been independently tested and approved to BS8417 standards.
This means that our award-winning PermaTimber® posts are of a higher quality and are guaranteed against fungal decay and wood-destroying insects for 15 years. Due to their longevity, these posts represent outstanding long-term value.

Gravel boards will protect your fencing
Timber gravel boards are one of the best ways to protect your fencing panels against moisture damage. Gravel boards are placed at the base of fencing and essentially help to lift your fencing above where moisture from soil or fallen debris could cause the wood to deteriorate over time. We can even provide access gaps in your gravel boards to allow wildlife such as hedgehogs to pass through your garden – just ask our team for more information.
Need more fencing advice?
With years worth of industry experience, we are experts when it comes to fencing and knowing what is right for you and your outdoor space. If you have any more questions about your fencing project, then call us on 01989 563614 to speak to one of our team.