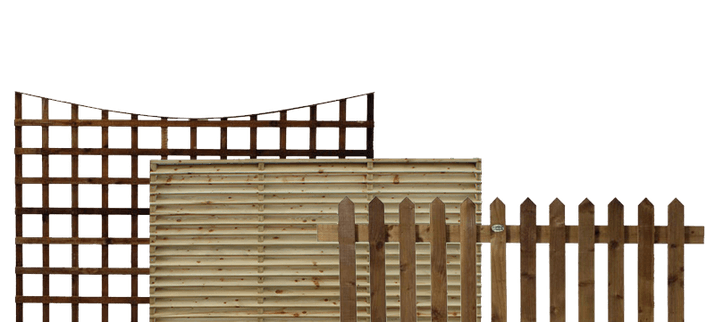 Fencing
Our timber fencing range is constructed to the highest possible quality. Our years of experience and excellent craftsmanship set us apart as manufacturers and retailers of top-quality fencing.
---
Fencing
Walford Timber, the parent company of Cheltenham Fencing and Landscaping Supplies, has been manufacturing and selling fencing since 1945 and we're proud that our product expertise is recognised by consumers, stockists, fencing and landscaping contractors, landscaping centres, garden centres, timber merchants, local authorities and tradesmen alike.
Today we deliver timber fencing locally to Cheltenham, Gloucester, Evesham, Tewkesbury, Witney, Stroud, Cirencester, the Cotswolds and surrounding areas from our Cheltenham premises.

A fencing Guarantee that matters
With a 10-year guarantee on all pressure treated timber against manufacturing defects and fungal decay, and a 15-year guarantee on our unique PermaTimber® fence posts, you can rest assured that your fencing products will last for many years to come.
Everything you need professional fencing installation
Cheltenham Fencing and Landscaping Supplies offers an extensive range of both domestic and commercial fencing products as well as all the related fencing materials and tools you need to ensure a professional installation. We also provide advice on how to manage after the installation.
Local installer network
We are always happy to give you free and impartial product advice to make sure you get the right garden fence. If you need help finding a local installer for your next fencing project we can also help put you in touch with trusted local fencing installers and contractors who can manage everything for you.
Things to consider
Repairing your fencing?
If you want to repair an existing fence, then choose a supplier such as Cheltenham Fencing and Landscaping Supplies who can offer all the styles to ensure a perfect match and enhance your home.
Decide what you want your fence to do before you buy?
If you are looking for a more functional/commercial solution, we offer specialist low-cost solutions from wire fencing to traditional post and rail and stake and rail fencing.
Looking for something more decorative?
Then palisade timber fencing offers a traditional solution to help define an area. You should also check out our decorative panels as an alternative as well as our extensive range of trellis if you want to still allow light into your garden.
Looking for something more substantial?
Consider closeboard fencing panels. When you want privacy and an extremely durable solution, closeboard fencing is a great option as it can be tailored on-site to exactly fit the space in your garden.
At Walford Timber, we are pleased to offer a range of different styles for all of your timber fencing requirements. For the more functional and commercial needs, we offer low-cost solutions such as wire fencing, traditional posts, rail and stake, and rail fencing. However, if you are looking for something more decorative, we offer trellis panels that allow light into your garden, whilst palisade timber fencing is also a great way to define an area. Alternatively, closeboard fencing panels are durable and offer privacy. They can also be tailored on-site to fit the space in your garden perfectly.
Top tip for fencing

If you go for closeboard timber fencing do make sure you budget for capping rails and gravel boards. Also, remember to use a wood preservative to ensure a professional finish that will stand the test of time and give your fence maximum protection for many years to come.
U clips are an easy way to fix panels as you fix the clip to the post first, then simply slide the panel into place before securing.
For a more modern finish consider concrete. The concrete posts are set into the ground and have been made with channels that allow the timber fencing panel to be slid into place or easily replaced at a later date.
Looking for fencing that is quick and easy to install?

Timber fence panels are pre-made panels in standard sizes that you simply fix into place between either timber or concrete fence posts.

Concrete or Timber Posts with Fence Panels?

We offer both solutions. For a traditional finish, try our PermaTimber® posts which come with a 15-year product guarantee and are fixed with either Post Mix or metal post supports. Panels are then nailed or screwed into place.

Product Advice

If you have any questions or need help with product advice or finding an installer, please contact us on 01242 526946 or email info@​cheltenhamfencing.​co.​uk.